Samantha L. Dammer, Esq.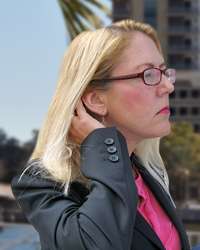 Samantha Dammer is licensed to practice law in Florida and Illinois, concentrating her practice in bankruptcy law, general and real estate litigation, commercial and residential foreclosure defense, business law and debt restructuring.  A tenacious, compassionate and experienced advocate, Ms. Dammer provides a holistic approach to each client's case.  While the firm provides full representation to businesses and owners at all levels including start-ups, many of Ms. Dammer's clients are those individuals and businesses that are seeking relief from business and personal financial distress, foreclosure or debt issues.
Ms. Dammer graduated first in her class from St. Xavier University in Chicago with a degree in English Literature in 1995.  Thereafter, she attended law school at Valparaiso University School of Law, where she was the Executive Symposium Editor for the law review, and authored a published note which proposed a constitutional regulation of computer-generated child pornography.  Her note has been cited several times by legal scholars as well as by the United States Supreme Court when the high court made its decision on that issue in 2003. Ms. Dammer graduated from Valpo Law School Magna Cum Laude in 1998.
Immediately after graduation from law school, Samantha Dammer started her own general practice law firm in Orland Park, a suburb of Chicago.  Within the first year, Ms. Dammer's law firm, The Law Offices of Samantha L. Friel & Associates, P.C. became a leader in providing general practice legal services in the south Chicagoland suburbs.   Ms. Dammer earned the trust of thousands of clients, who appreciated her sincerity, frank approach to the case, and aggressive representation.  Ms. Dammer strategically planned and executed a tactical market emergence process which resulted in immediate name recognition within three years after the firm's inception.
Throughout her career in Chicago, Samantha Dammer has always been recognized for her commitment to leadership roles in the community.  Examples of her past community involvement include:
St. Xavier University, Board of Directors, Alumni Association (1998-2001, 2003-2005), Professional Conduct Committee, Illinois State Bar Association. 2001-2005. Secretary, 2004-2005, Board Commissioner, Orland Park Civic Center Authority, 2003-2005, Secretary, South Suburban Bar Association. 2003-2004. Board Member, 2000-2004. Chair, Scholarship Committee, Board of Directors, Orland Park Area Chamber of Commerce, 1999 to 2005. 2004 Chair, Scholarship Committee. 2002 Chair, Fashion Show Committee, Board of Directors, Tinley Park Chamber of Commerce, 1999-2001. Chair, Ambassador Committee, Board of Directors, I-80 Regional YMCA. 1999 to 2002, Board of Directors, Southwest Suburban United Way (formerly United Way of Southwest Cook County). 1999 to 2004, Member, Kiwanis Club of Orland  Park, 1999-2005, Volunteer speaker, South Suburban Family Shelter, Featured in National Register's "Who's Who in Executives and Professionals" 2002 Edition.
In 2005, Ms. Dammer moved her family to Tampa, Florida.  In 2007, after sitting for the Florida Bar in the midst of a nationwide economic crisis, Ms. Dammer focused her efforts in helping high-end clients avoid bankruptcy and financial disaster through taking a holistic approach to each legal problem.  Helping start-up businesses to evaluate their legal needs so that they can grow and succeed is one of the firm's areas of concentration.   She founded her private law firm Samantha L. Dammer in 2009, and has concentrated her practice in guiding high-profile individuals and business owners through their individual situations.  She takes pride in using a unique blend of legal skill, experience, creativity, and problem-solving aptitude. Ms. Dammer joined Bleakley Bavol Denman & Grace in May 2021.
A noted public speaker, Ms. Dammer has presented to various groups and organizations on legal topics including:
Common Pitfalls in Small Business Chapter 11 Cases
Chapter 7 Bankruptcy for The Small Business Owner
Starting Out In Business: Seven Ways To Prime Your Success
Avoiding Legal Pitfalls In Your New Business
Bankruptcy Litigation:  Top 7 Complications in Bankruptcy
Strategic Planning Through Financial Crisis
Avoiding Financial Ruin?  Yes, There Are Solutions
Women, Divorce, And Overcoming Financial Obstacles
Suddenly Single?  Overcoming Legal And Financial Issues
Domestic Relations And Family Law
Real Estate Law: Advanced Issues And Answers
Beyond The Business Plan: Strategies For Financial Success
Ms. Dammer remains committed to the Tampa Bay community.  She was the Chairman of the South Tampa Chamber of Commerce for the 2016-2017 term, and active in the organization since 2007. She volunteers her time through various organizations such as the SBDC's Small Business Resource Network, Hands of Hope, and the Post 9/11 Veteran's advisory board.  Ms. Dammer has served on the Board of Directors of Wheels of Success, a not-for-profit organization devoted to providing vehicles for working families, as well as the Dress for Success board of directors.  She is also an active member of Tampa Bay Bankruptcy Bar Association and the Centre Club of Tampa.
Courts in which Ms. Dammer is admitted to practice include:
United States Supreme Court
Florida Supreme Court (including all Circuit and County courts)
Illinois Supreme Court
United States District Court, Middle District Florida
United States District Court, Southern District Florida
United States Court of International Trade
Ms. Dammer resides in Tampa Palms with her two lovely children, Annabelle Lee and Alexandra Rain.  Her personal interests include gardening, cooking, and travel.