Chapter 11 Bankruptcy: Stopping Factoring Companies and Companies with Consent Judgments from Collecting from the Business Bank Account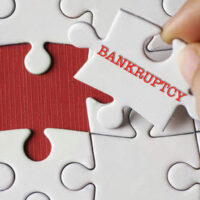 When a business files for bankruptcy and wants to remain open, it will typically file for Chapter 11 bankruptcy. Chapter 11 bankruptcy is a reorganization type of bankruptcy that allows a company to remain operational while it develops a repayment plan for its debts. If the business meets the terms of the repayment plan—typically over a five- to ten-year period—then the business can be eligible to have remaining debt discharged and to stay open for business thereafter.  In addition, if the business follows the debtor-in-possession rules, it can remain in control of its operations and pay its employees, and often even its officers.
While this might sound straightforward, many different issues can arise for a business in Chapter 11 bankruptcy. One of those issues involves factoring companies or companies with consent judgments attempting to collect from the business bank account. What can businesses in Chapter 11 bankruptcy do to prevent these companies from taking money out of the business bank account?
Understanding How Factoring Companies and Companies with Consent Judgments Affect Businesses in Chapter 11 Bankruptcy
In order to understand how a factoring company or a company with a consent judgment might attempt to collect from a business's bank account when that business files for Chapter 11 bankruptcy, it is essential to learn more about what a factory company is and how a company gets a consent judgment.
First, what is a factoring company? Often, factoring companies are used by businesses that are struggling financially or would not be able to secure credit by another route, according to Entrepreneur. A factoring company—sometimes called the "factor"—is a third-party that buys the accounts receivable from a business—meaning its invoices—at a discount. This gives the business cash up front, and it allows the business to continue operating if it would otherwise have trouble obtaining up-front cash through a loan or by other means. The factor then can obtain the money—minus the discount—from the invoices. To be clear, a factoring company does not lend money to a business, but instead buys its accounts receivable to make a profit and to give the business cash up-front. Ultimately, the business loses some money since it receives less cash than the amount of the invoices, but it can allow a business to remain open.
Sometimes the businesses that owe the money attached to the invoices. For example, if Business A uses a factoring company to obtain cash, the factoring company obtains accounts receivable from Business B, Business C, and Business D. If Business D files for Chapter 11 bankruptcy, then the factoring company will want to find a way to obtain the money it is owed.
Consent judgments are what they sound like. As a Bankrate article explains, a consent judgment is "a court order to which all parties have agreed." It is typically used to settle a lawsuit. So, for instance, imagine again that Business D (in the hypothetical above) also entered into a consent judgment after being sued by a creditor. If Business D files for bankruptcy, the creditor wants to find a way to obtain the money it is owed through the consent judgment.
How the Automatic Stay Prevents Any Collection Activities During Bankruptcy
For businesses (like Business D in the hypothetical) that file for Chapter 11 bankruptcy, the automatic stay prevents creditors—including factoring companies and companies with consent judgments—from attempting to collect. The automatic stay prohibits a creditor from taking any steps to collect from the business. This includes attempts to collect on invoices (such as those that a factoring company might have purchased), as well as judgments obtained prior to the commencement of the bankruptcy filing (including consent judgments that Business D might have entered into after filing for bankruptcy).
If there is a violation of the automatic stay, then there are remedies available to the debtor. Any action taken that violates the stay typically is void. And if the violation is willful, the creditor can be penalized. It is important, however, for a business to speak with an experienced Tampa bankruptcy lawyer to ensure that there is not an exception that can allow the automatic stay to be lifted for a particular debt.
Contact a Tampa Bankruptcy Attorney
If you have questions about how Chapter 11 bankruptcy affects a factoring company's ability to seek payment or the ability of a company with a consent judgment to obtain funds from the business, you should speak with a bankruptcy lawyer in Tampa about your case. Contact Samantha L. Dammer for more information.
Resources:
law.cornell.edu/uscode/text/11/362
bankrate.com/glossary/c/consent-judgment/