How Does a Restaurant Close Down If It Wants to File for Chapter 7 Bankruptcy?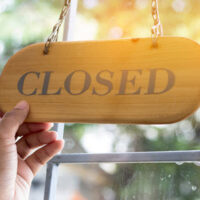 If you are a restaurant owner in the Tampa Bay area and are planning to file for Chapter 7 bankruptcy, we know that you probably have numerous questions about how to begin the process of closing down your business. What will you do with perishable items? What are you supposed to do with the restaurant equipment you own? How will you handle employee payroll and tax matters? These are just some of the questions that restaurant owners have when they are thinking about filing for Chapter 7 bankruptcy in Florida.
The good news is that this is a process that restaurant own face on a somewhat regular basis.   There are certain steps you can take to ensure that you close your business properly and begin the process of filing for liquidation bankruptcy.
Steps for Closing Your Restaurant Business in Tampa Bay
When you are planning to file for bankruptcy and you own a restaurant, you will need to close your business in an orderly fashion, and you will need to ensure that you take all necessary steps. We have compiled some helpful tips from the Small Business Chronicle and from QuickBooks, which can help you to understand more about how a restaurant closes down if it wants to file for Chapter 7 bankruptcy:
Make a list of your restaurant's assets, as well as its debts owed to creditors. It is often helpful to list the assets of your restaurant in order from the greatest value to the lowest value to help you consider how much money you may be able to recoup in order to pay off some debts.
Tell your employees that the restaurant is closing. It is important to inform your employees as soon as you can that you will be closing down so that they can look for other work.   Communicate honestly to avoid misunderstandings and rumors.  You will also need to provide employees with information about when they will receive their last paycheck. There is no statutory law in Florida concerning when an employee must receive her last paycheck, but it is a good idea to get this done as soon as you can.
Inform your creditors that you are going out of business. If you are planning to file for bankruptcy, it is unlikely that you are planning to pay off all outstanding debts. This is where your liquidation sale, or going-out-of-business sale, can help. You should keep in mind that, once you inform your creditors that you are closing your restaurant, they may soon be eligible to file a claim against you for your unpaid debt. Working with creditors can be complicated and frustrating, but a Tampa Bay bankruptcy attorney can help you through this process.
Sell the rest of your business inventory and any assets. If you have perishables that can be sold, along with the rest of your restaurant inventory and assets, you may be able to make some of the money you owe to pay your creditors.
Submit final payroll forms. If you were wondering what would happen to your payroll, once you have issued your employees their last paychecks, you will need to deal with federal and Florida state employment forms. If you are filing for bankruptcy and you are short on cash for your final business payments, you should know that you will likely not be eligible for any programs that can reduce the amount you owe. A Tampa bankruptcy lawyer can explain in more detail when you may be eligible to use an IRS Form 656 or Form 433-A.
Submit your final income tax returns. Depending upon how you established your restaurant, you will need to file a specific final income tax return. For sole proprietors, this is relatively easy—you simply must file on time (by April 15). However, for other types of business structures, there are specific "final return" boxes and forms. You will also need to file final employer tax returns.
Contact a Tampa Bay Bankruptcy Attorney
As you can see, many of these steps are complicated, and it is important to work with a Tampa Bay bankruptcy lawyer as you begin the process of closing down your restaurant. We can help you to deal with creditors in addition to assisting you with some of the business law matters such as working with your commercial landlord or dealing with outstanding catering contracts. Contact Samantha L. Dammer to learn more about how we can help you.
Resources:
smallbusiness.chron.com/close-business-file-bankruptcy-3456.html
quickbooks.intuit.com/r/financial-management/a-10-step-checklist-for-closing-a-business/