Personal Guarantees on Commercial Leases When a Business Closes or Files Chapter 7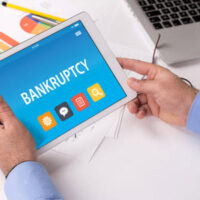 When a business in the Tampa Bay area is struggling to pay its debts and to keep its doors open, the business owners might be considering the possibility of business bankruptcy or closure. For many businesses, Chapter 11 bankruptcy is the best option because it allows the business to remain open while reorganizing debts and getting back on track with payments to creditors. Yet for a Chapter 11 bankruptcy case to move forward, the business will need to be able to prove to the court that it anticipates an upturn in business or a shift in consumer patterns that will allow the business to begin earning enough to pay its debts and to remain viable. For a number of businesses, from retail establishments to restaurants and bars, the question of viability is a difficult one. Indeed, for many of those businesses, Chapter 7 bankruptcy may be the best and only option to handle outstanding debts.
Unlike Chapter 11 bankruptcy, Chapter 7 bankruptcy requires the business owners to close the business and for all business assets to be liquidated in order to repay creditors. Since the business will be closing, it will no longer need the retail space it occupies and likely will want to end the commercial lease. Yet as a business owner, you might have made a personal guarantee to get the commercial lease. As such, a liquidation bankruptcy can leave you in a difficult position. We want to explain more and to discuss your potential options in such a scenario.
When Your Business is Closing or Filing for Bankruptcy But You Made a Personal Guarantee to Get the Commercial Lease 
A personal guarantee is a promise from one of the business owners (typically one of the business owners, but it could also be another individual connected to the business) to be personally liable for an outstanding debt or liability if the business cannot hold up its end of the agreement. Accordingly, a personal guarantee on a commercial lease means that an individual promised to complete the terms of the commercial lease even if the business were to close or to file for Chapter 7 bankruptcy. If the business does close and you made a personal guarantee on a commercial lease, you will be personally liable for the remaining commercial rent the business owes according to the terms of the lease.
If you do not adhere to the terms, the commercial landlord could file a claim against you personally (or anyone else who made a personal guarantee) to seek losses associated with a breach of the commercial lease.
Filing for Personal Bankruptcy with a Personal Guarantee 
If you cannot personally afford to complete the terms of the commercial lease, you may need to consider personal bankruptcy to discharge the debt you owe due to the personal guarantee.
While some commercial leases involve commercial rents that are relatively low and affordable in relation to residential rent prices, some commercial monthly rents are in the tens of thousands of dollars or more. In such a scenario where there is a personal guarantee on a commercial lease, an individual could end up being personally liable for hundreds of thousands of dollars in unpaid commercial rent, and consumer bankruptcy may be the only option.
Contact a Tampa Business Bankruptcy Attorney 
Do you have questions about how a business closure or Chapter 7 bankruptcy filing can affect personal guarantees? One of our experienced Tampa bankruptcy attorneys can talk with you today about your case and can assist you in your bankruptcy filing and related legal matters. Contact Samantha L. Dammer today to learn more about the services we provide to businesses and individuals in Florida bankruptcy cases.
Resource:
loans.usnews.com/articles/should-you-sign-a-personal-guarantee-for-a-business-loan