Small Business Retail Stores That Have to Go Through Bankruptcy in Tampa Malls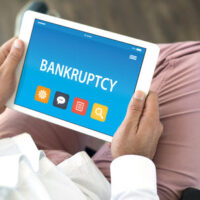 Retail stores are going out of business and filing for bankruptcy across the country, including in the Tampa Bay area. According to a recent article in The Atlantic, the year 2017 saw a kind of "retail meltdown" in which small retail stores throughout the nation are closing.  In 2020, the COVID-19 pandemic sure did not help things.  To be sure, despite being "in the middle of an economic recovery, hundreds of shops and malls are shuttering." Some small businesses in malls have filed for Chapter 11 bankruptcy, allowing them to remain in business while developing repayment plans to pay back creditors. In other situations, small retailers in malls have filed for Chapter 7 liquidation bankruptcy, meaning that those stores have had to close their doors. Examples of some notable retail establishments that have filed for bankruptcy or have closed retail locations include Urban Outfitters, American Eagle, Sports Authority, Payless, Lululemon, and Ralph Lauren, Charlotte Russe and others.
What do small business retail stores located in malls need to know about filing for bankruptcy protection? In particular, for shops in the Westfield Malls in the Tampa area, including Westfield Brandon and Westfield Citrus Park, what type of bankruptcy should you file for?
Why Are Stores in Tampa Malls Closing?
Before we discuss important things for Tampa small business retail stores facing bankruptcy to know, we want to provide some more background information about why so many retail establishments in Tampa are closing and/or filing for bankruptcy. An article in the Tampa Bay Times reported earlier this year that retailers in Tampa Bay malls "continue to struggle with no saving grace in sight." Macy's closed one of its stores at University Mall in Tampa, and Tyrone Square Mall saw the closure of the Sears department store. The Sears at Westfield Countryside in Clearwater leased part of its space to a Whole Foods Market, and a JCPenney department store at University Mall will soon be replaced with a health club.
Why are all of these stores closing while the economy seems to be improving? The article in The Atlantic speculates about the closure of retail stores in malls, offering some of the following causes:
More people are shopping online;
There are too many malls, with about 1,200 malls currently open in the U.S.; and
Florida consumers—along with consumers across the country—are spending less on material items and more on experiences (such as travel or dining out).
If you are a retailer in a Tampa mall and are thinking about bankruptcy, what do you need to know?
Filing for Chapter 7 or Chapter 11 Bankruptcy Protection
Small retail establishments in Tampa Bay malls will first need to determine whether they should file for Chapter 7 or Chapter 11 bankruptcy protection. In a Chapter 7 bankruptcy proceeding, the store will need to close permanently, and the assets of the business will need to be liquidated in order to repay creditors. One of the primary benefits of a Chapter 7 business bankruptcy is that the debts of the business can be discharged, and the business owners can get a fresh start.
In a Chapter 11 bankruptcy, the small retail business does not necessarily need to close. To be sure, there are numerous businesses that file for Chapter 11 bankruptcy and keep their doors open. With a Chapter 11 bankruptcy, the business develops a repayment plan in which it agrees to repay creditors a specific amount of money over a period of time. If the business is able to stick to the repayment plan, then the remaining debts can be discharged and the business can move forward.
Consider that dozens are large and small retail establishments in Tampa and across the country are going out of business and closing doors, it is important for small retail owners in Tampa malls to consider whether Chapter 11 bankruptcy is actually feasible. In other words, will you be able to make sufficient profits to meet the terms of a repayment plan? Or is it best to cut your losses and file for Chapter 7 bankruptcy?
Seek Advice from a Tampa Bankruptcy Attorney
In some situations, retail establishments may be able to work with commercial landlords in malls to close some stores and to avoid filing for bankruptcy, according to an article in Reuters. For any Westfield malls in the Tampa area, business owners should know that the mall is undergoing ownership changes that may impact bankruptcy proceedings in the New Year, according to a report in the Tampa Bay Times.
To learn more about filing for bankruptcy as a small retail business in a mall, you should speak with a Tampa bankruptcy lawyer as soon as possible. Contact Samantha L. Dammer for more information.
Resources:
theatlantic.com/business/archive/2017/04/retail-meltdown-of-2017/522384/
tampabay.com/news/business/retail/French-group-to-take-over-Westfield-malls-for-15-7-billion_163521031
reuters.com/article/us-bebe-stores-restructuring/retailer-bebe-avoids-bankruptcy-with-landlord-deals-sources-idUSKBN1802MA
tampabay.com/news/business/retail/retailers-continue-to-struggle-with-no-saving-grace-in-sight/2320330