Discharging Private Student Loans in Chapter 7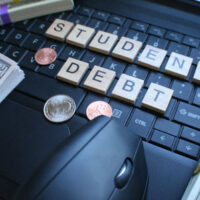 Individuals throughout the Tampa Bay area, and indeed across the country, are struggling to repay student loans and are considering personal bankruptcy. In particular, private students loans present particular problems for debtors due to the fact that they are not eligible for the federal loan repayment programs that can take into account a borrower's current income and monthly ability to pay. For many Tampa residents, private student loan debt is compounded by additional consumer debt, such as hospital bills and credit card debt. If you do have a seemingly insurmountable student loan debt, you might be wondering: is it possible to discharge private student loans through Chapter 7 bankruptcy?
In brief, it is much more difficult to discharge student loan debt in bankruptcy than certain other types of debt. However, discharging private student loans in Chapter 7 is not impossible. To help you understand how this process works, we will go through some misconceptions about student loans and bankruptcy, followed by a discussion of the steps necessary for discharging student loans through consumer bankruptcy.
Assumptions About Student Loans and Chapter 7 Bankruptcy
It is true that a small percentage of consumer bankruptcies involve the discharge of student loan debt. However, this might be because people simply are not trying. Many debtors have heard that it is impossible to discharge student loans through Chapter 7 bankruptcy. As such, they do not attempt to do so when they file for personal bankruptcy. According to an article in NerdWallet, only 0.1 percent of debtors who file for bankruptcy ask to have their student loans forgiven.
When debtors do attempt to have student loans discharged, about 39 percent of them get at least a partial discharge. In other words, there may be options for having debts discharged or partially discharged. In order to do so, you have to try.
Types of Tests for Determining Dischargeability of Student Loans
What do you have to do in order to have your student loans discharged through bankruptcy? Generally speaking, Chapter 7 bankruptcy discharges of student loans require that you meet the elements of one of a couple of types of tests, depending upon the specific jurisdiction in which you file. There are two primary types of student loan discharge tests:
Totality of the Circumstances Test: under this test, the court will look at all of the factors involved in your bankruptcy case (thus the name "totality of the circumstances") in order to determine whether you would face an "undue hardship" if required to continue making payments on your student loans. To show that paying back your student loans would be an "undue hardship," you will generally need to prove that you have made attempts to pay your student loans, and that, because of a variety of factors, you simply are unable to do so. A Tampa bankruptcy lawyer can speak with you in more detail about the factors that can be taken into account when looking at the totality of the circumstances.

Brunner Test: under this test, a debtor must meet three different factors in order to be eligible to have her student loans forgiven. The debtor first must be able to show that, with her income and monthly expenses, she is below the poverty line if she had to continue to repay her student loans. Second, the debtor must show that her current financial situation (meaning her income and expenses) is likely to persist into the future. Finally, and third, the debtor must be able to show that she made a good faith effort to make payments on her student loans despite her financial circumstances.
In some cases, bankruptcy courts also may employ other tests, but a Tampa bankruptcy attorney can help you to understand what evidence you will need to provide in order to be eligible for a bankruptcy discharge. In some situations, as well, private student loans and the individual's situation may allow for a discharge.
Contact a Bankruptcy Attorney in Tampa Bay
If you have questions about discharging private student loans through Chapter 7 bankruptcy, you should discuss your case with a Tampa Bay bankruptcy lawyer as soon as possible. Contact Samantha L. Dammer for more information about private discharging student loans in Florida.
Resources:
nerdwallet.com/blog/loans/student-loans/student-loans-bankruptcy/
uscourts.gov/services-forms/bankruptcy/bankruptcy-basics/chapter-7-bankruptcy-basics